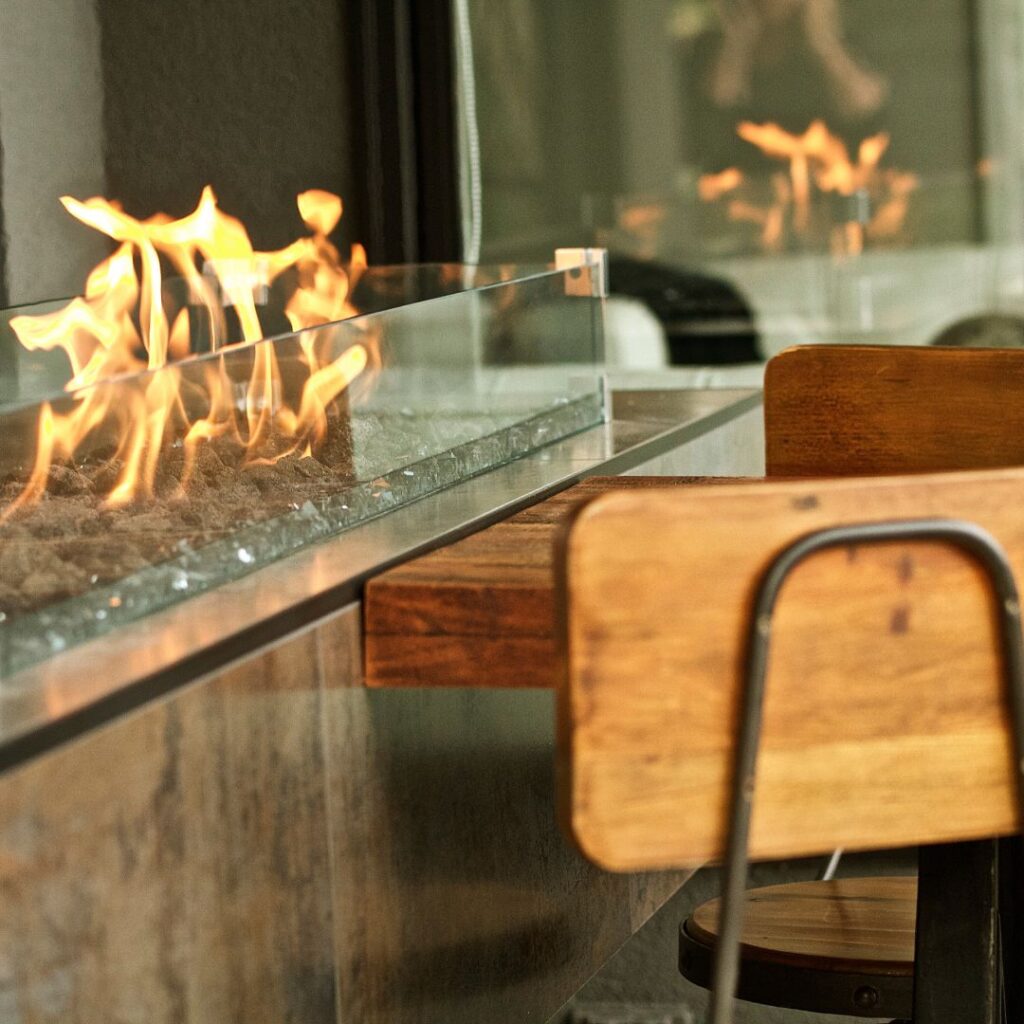 Just because the weather turns cold, it shouldn't mean you have to spend every last minute curled up on the sofa and buried in hundreds of blankets. Ideas for outdoor fireplaces are a beneficial addition to your outdoor living area. That's because they add both light and heat to your outdoor space. These outdoor fireplaces are full of inspiration to help you create a charming, relaxing getaway in your backyard.
Ideas for outdoor fireplaces
1. Ideas for outdoor fireplaces on patios- Simple or extravagant
Modern outdoor fireplace designs significantly differ from stacked cinder blocks. While personal style and choices s vary, even the rustic look of natural stone with no chimney can increase any patio area. With a few ideas for outdoor fireplaces on patios, a small patio fireplace can be a final touch for the outdoor living area, with coordinating some furniture setting the overall theme.
2. Ideas for outdoor fireplaces- Bring warmth to the pool house
Some ideas for outdoor fireplaces add warmth to the pool house and creates a defined gathering space. In addition, the wood storage on each side makes for organization and a visually appealing display.
3. Meet halfway with a chimneyed firepit
Somewhere between a fire pit and a chiminea, this fireplace is super sturdy and modern in its design. As a result, it's a surefire way to bring the best of both worlds in style and warmth into any outdoor space. All you've got to do is add firewood or kindling, and then the cozy vibes can begin but enjoy your fire pit responsibly. For more inspiring set-ups, check out our fire pit's unique ideas for some hints on styling it.
4. Stone fire pit with seating
We are fans of mixing natural materials like stone and wood. This built-in stone seating makes for a cozy outdoor gathering space in the backyard of this beautiful brick estate. Rather than blending in, the stone accentuates the gorgeous natural red brick.
5. Don't be afraid to go with a square fire pit

  
There's no rule saying that your fire pit has to be circular! However, a square fire pit is unique and even a bit more modern in its appearance. In this case, it incorporated the square fire pit into a modular wall built at various heights. As a result, it creates a lot of visual appeal while also providing plenty of space for family and guests to gather around and enjoy the comfort and warmth of the fire.
How much do outdoor fireplaces cost?
When calculating the addition of an outdoor fireplace, many things will dramatically affect the cost. How much do outdoor fireplaces cost? The cost of installing an outdoor fireplace will hinge on the features and materials you've chosen. Therefore, you'll need to determine your budget before you design something out of your price range.
Final words
Before deciding between these ideas for outdoor fireplaces, consider your family's rhythm of life. Then, make the most of your property with an outdoor fireplace. Then, contact Smoky Sweeper today to start designing and constructing the perfect elements for your lawn! We build a safe, durable, and aesthetically pleasing fire pit to add a special touch to your home's landscape design.