A chimney fire is a frightening event and can be conceivably dangerous to your property and family. When using your fireplace, always take extra safety measures to confirm that a fire never starts.
However, if a fire in the chimney starts then taking quick, decisive action can save your home. Just make sure to look out for your family's safety before tackling this problem. Knowing how to deal with a chimney fire is essential to help you in an emergency.
1) Get everyone out
As soon as you're awake from a chimney fire, immediately get all people out of the home and contact the fire department. Calling the firefighters is a smart idea, even if you manage to put the fire out on your own because chimney fires can spread rapidly. So it is better to take precautions before a chimney fire blasts out. 
2) Use a Fire Extinguisher 
Use a fire extinguisher on the flames. Direct the nozzle towards the screech and spray in short bursts to ensure that any ashes or flames that didn't get extinguished by the sand are completely out.
When using the fire extinguisher, don't stand too close as the pressure from the nozzle can throw glowing ashes into the air. 
3) Minimize creosote build-up to prevent chimney fires
The main culprit of chimney fires is creosote. This creosote is a highly flammable, dark brown substance that coats chimney walls when smoke, vapour, and unburnt wood products of a fire condense as they move from the hot fireplace into the cooler chimney. If the temperature in the chimney flue is high enough and the creosote build-up thick enough, it can catch fire, and that fire can spread.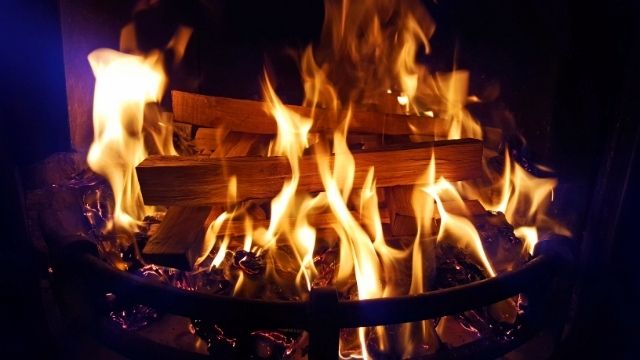 4) Extinguish the Fire in the Grate
For safety purposes, you should always keep a tub of sand next to your fireplace. In the case of a chimney fire, splash a generous amount of sand onto the fire to help stop the fire of oxygen.
5) Close inlet valves and hatches
If you have a chimney fire, it is essential to close all the valves on the stove, and any hatches in the chimney. However, you must not close the damper if there is a fire in the fireplace. Doing this would send all the smoke into the room.
Final words
If you have a chimney fire, it is essential to call an expert to inspect the fireplace and chimney to determine its causes. A professional chimney cleaner determines what caused the fire. It is always essential to make sure you have your chimney and fireplace cleaned and tested to assure the safety of your family and your home.
A clean chimney will not catch on fire and cause harm to your family and damage to your house. CSIA-certified technicians can expertly tackle this task. To keep yourself, your family, and your home safe, call Smoky Sweeper today and speak with one of our expert staff to schedule your appointment for a chimney cleaning service.