If you have a fireplace, Try not to clean your chimney without taking help from professionals. Chimneys need to be cleaned professionally at least once a year or three times per year when using the fire daily or burning solid fuels such as wood and coal.
It is not safe to clean your chimney without an expert's help. Cleaning through professionals prevents a dangerous buildup of soot, which leads to chimney fires. 
Unfortunately, many homeowners mistakenly believe they can save money by cleaning their chimneys on their own, but this can be dangerous for not properly trained people.
Here in this blog, we discuss whether it is safe to clean your chimney without professionals or if it is a bad idea.
1) Fall from a roof or ladder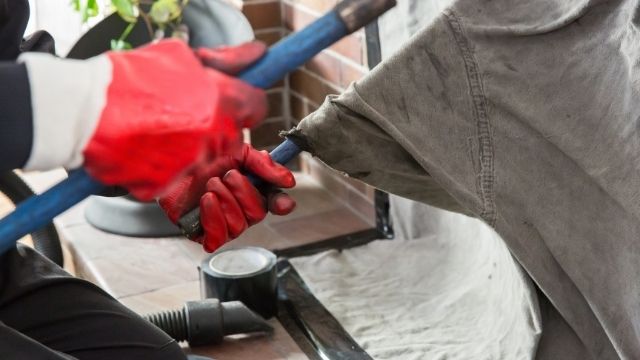 Cleaning a chimney through ladders and working from your roof is quite dangerous. A fall from a roof or a ladder can result in paralysis or even death.
You can make this aspect safer by being very careful and hiring professional chimney cleaning services. They have the experience of keeping themselves safe while they pass over the roof and going to clean the dangerous soot and creosote buildup.
2) Clouds of black soot can fall down 
Many homeowners who attempt to turn chimney cleaning into a task find it is more complex than they predict to keep the soot out of their homes.
Sweeping and cleaning the inside of the chimney loosens this wastage, and without the proper protections in place, clouds of black soot can fall into your fireplace and bulge outward into your home.
It is pretty challenging to clean, and even it costs more, and you may incur even more costs than if you had called a professional chimney sweeper from the start.
3) Affects your vision and respiratory health

The foremost safety concern of cleaning chimneys is affecting your vision and respiratory health. Try to wear goggles and a dust mask or a full-face mask while doing this work.
But even after wearing goggles and masks, the soot, ash, and other wastage can irritate your eyes and respiratory system, thus it's best not to clean your chimney on your own, hire certified chimney cleaning services instead.
4) Specific tools used in the chimney
If you want to Clean Your Chimney it would be best if you had some specific tools used in the chimney for cleaning. While these items are not fancy or specialized, there are high chances that you may not have them all in your house.
But before you get ready to go shopping for specific tools used in the chimney, you will need to do a little research. Because hiring a professional company is cheaper than purchasing equipment.
5) Primary cause of dangerous chimneys
The most challenging task to remove from the chimney is creosote, a buildup in your chimney. It is the primary cause of dangerous chimneys and can lead to a house fire.
The flames from a chimney fire can spread to the roof of a house within seconds. A small mistake damages your home or even puts your family's health at risk.
Final words
For safety concerns, do not hesitate to call a professional. Try not to clean your chimney on your own though you might save a little money by this, and little money inadvertently causes more issues due to inexperience.
So, no, cleaning your chimney without professionals is not safe.  CSIA-certified technicians can expertly tackle this task. To keep yourself, your family, and your home safe, call Smoky Sweeper for the best chimney cleaning services.