You might be thinking that dryer vent cleaning does not possess much importance. Remember that even your dryer vent stays out of sight; it plays a very crucial role in your home. The functioning of dry ducts includes removing hot air for effective and safe operation. Therefore, they are vulnerable to becoming clogged with dust and debris. Here lies the importance of keeping your dryer vent clean. You can do the cleaning regularly by approaching the professionals to do the task. In addition, if you are sensing something wrong, immediately contact the Chimney Sweepers.
What happens if you don't clean your dryer vent?
In 2010, the National Fire Prevention Association reported that home dryer machines were the reason for 15,450 house fires. Among them, 32% of fire outbreaks work caused by uncleaned dryer vents. Therefore, if you don't clean your dryer vent, it will lead to unsafe homes. 
Your dry vents become dirty due to lint and other debris buildups. The tiny fabric fibers and dust particles accumulate in the flue when you wash your clothes. This buildup is known as highly flammable lint. 
A clogged dryer vent also dramatically decreases the efficiency and becomes the reason for carbon monoxide poisoning. Therefore, using the dryer vent cleaning service is essential here. 
How to Clean Dryer Vents in Apartment?
Maintaining the dryer vent is not very complicated. All you have to do is, remove the lint from your dryer filter. Do this task before and after using the vent to eliminate the lint accumulation.
The second thing you can do is inspect your outer vent flap. It will ensure that any debris does not block your went.
Read Also https://www.smokysweeper.com/blog/how-to-clean-a-dirty-chimney-with-easy-steps-2-mins-guide/
What are the Benefits of Dryer Vent Cleaning?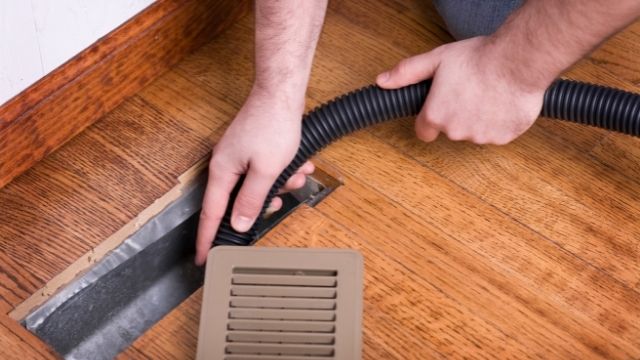 You should always take precautionary measures to ensure the safety of your family and home. With the professional dryer vent cleaning service, you can increase dryer performance and reduce risk. The benefits of dryer vent cleaning are as follows:
It increases the efficiency of the dryer

Eliminates the risk of fire outbreaks

Decreases the electricity bill

Boost the performance

Increase the lifespan

Improvised the air quality of your home
Conclusion
You can maintain your dryer vent with professional sweeping services. The importance of dryer vent cleaning is undeniable because it prevents various hazardous events. However, if you notice any of the above signs of the damaged chimney, you need to schedule a professional chimney sweeper. A damaged chimney can lead to dangerous hazards and perhaps permanently damage your fireplace.

Do not forget to share this article with your friends and family. Connect with us for any query.
Are you looking for the best dryer vent cleaning services in Houston, Tx? 

Contact Smoky Sweeper now!